We are HUGE fans of Pete the Cat in this house. A fact that was confirmed as I prepared for our "Pete the Cat and the Perfect Pizza Party" book reading last Wednesday, I pulled all the copies of our existing Pete the Cat books, a Pete the Cat stuffie and a print of Pete the Cat that my mother in law brought back from New Orleans for us.
In fact I had included "Pete the Cat and his Four Groovy Buttons" as part of my oldest daughter's first birthday theme – 'Cute as a Button' and my youngest daughter had memorized the words to "Pete the Cat I Love My White Shoes" before she was three and would serenade me as we drove around doing errands.
So when the opportunity arose to host a book reading party for the newest book from the bestselling Pete the Cat series, "Pete the Cat and the Perfect Pizza Party" (released September 3rd for purchase at a retailer near you) I jumped at it. I couldn't wait to open it up and read it to the kids.
And we weren't just going to read the book and be done with it… no, we took this opportunity to throw our own pizza party because just as Pete the Cat will tell you "the best kind of pizza is one you share with your friends".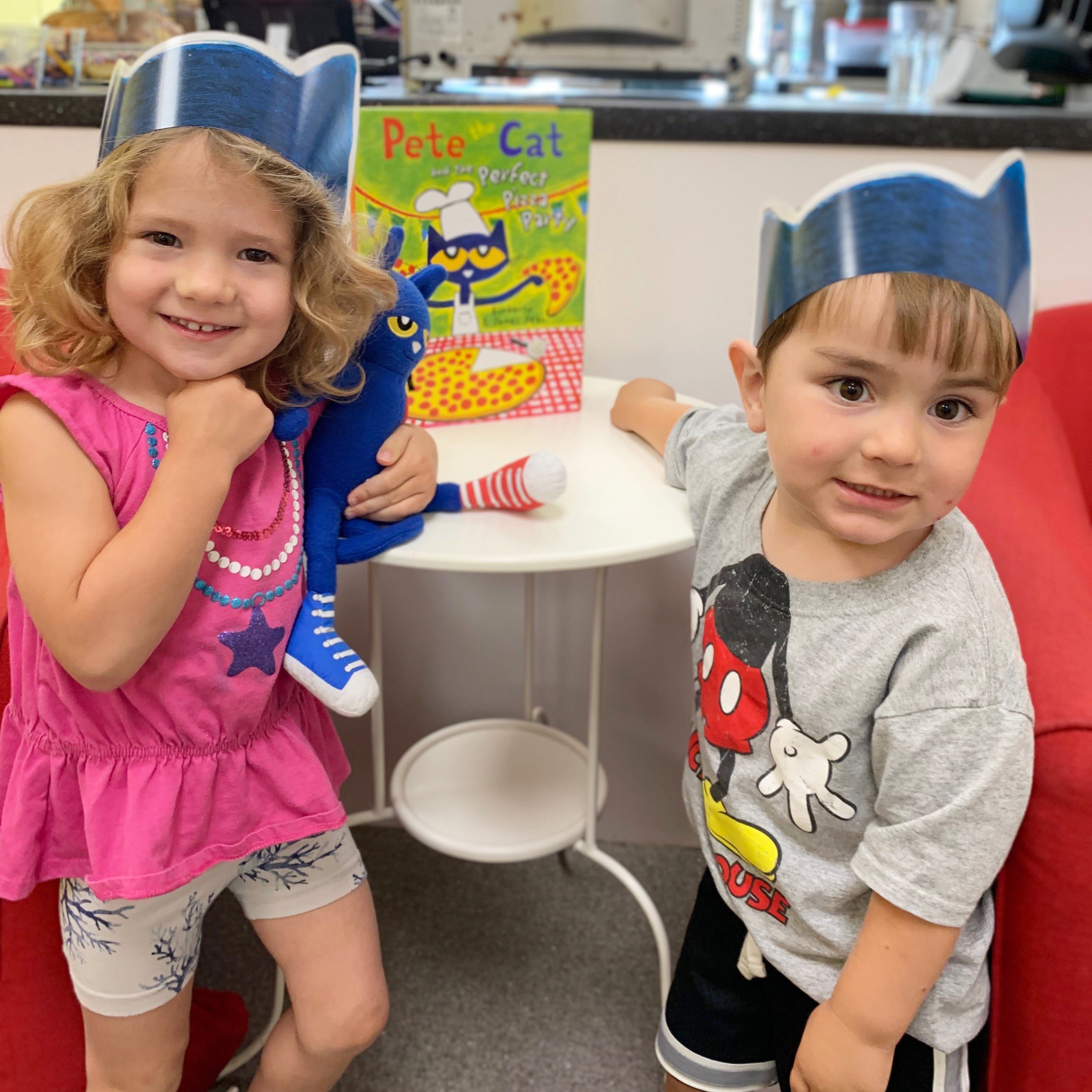 Our Pizza Party included craft time where the kids were able to decorate their own paper plate with all the different pizza toppings they wanted (I always think its funny that kids will happily glue every PAPER topping onto a paper pizza but when the real ones come out most go with just cheese or cheese and pepperoni!)
After we made our craft, we sat down with our Pete the Cat ears on, thanks to our friends at HarperCollins, and read the new book. In this one Pete invites his friends over for a pizza party and he thinks the perfect pizza will be cheese and pepperoni but as each of his friends speak up, they'd like to add their favourite toppings to it which all conveniently start with the letter P.
The kids think it's hilarious that Callie starts it off by requesting to add Pretzels. Alliteration is always fun to read with kids and with each turn of the page the kids wait in anticipation of what next P lettered food will end up on the pizza. Popcorn and Pickles got quite the laugh, among others.
Kimberly and James Dean did it again, creating a fun and entertaining story with interesting artwork on each page, that is definitely a great book choice for home, library or the classroom.
When our story time came to an end our party did NOT as we headed over to dress up as chefs with hats, aprons and at the suggestion of my six year old, stick on moustaches (brilliant) and lined up to make our very own mini pizzas from mini naan breads and toppings. The pizzas were grilled by Katrina, our host at Scout: Coffee + Tea, and the kids happily munched away on their creations.
| | | |
| --- | --- | --- |
| | | Photos by Chopp Photography |
You can see a full recap of our party here (click to watch the video on YouTube):
* I was compensated and received some party favours for this article/review, yet all opinions are my own.